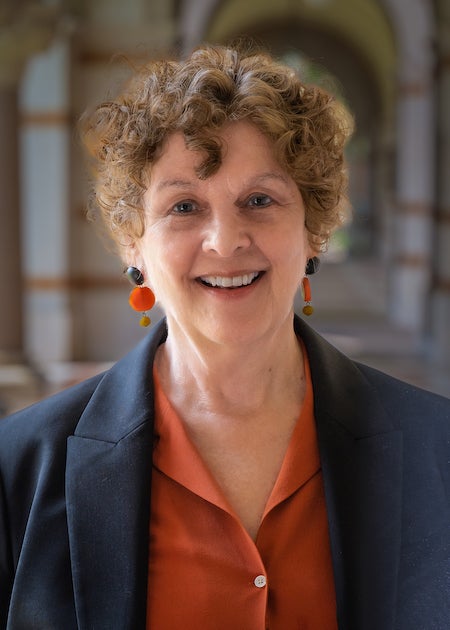 I am proud of the strides we have made in pursuing faculty research excellence, providing a transformative undergraduate education for our students, creating innovative models of interdisciplinarity and hiring first-rate faculty. As I conclude my fifth year as Humanities dean, I am also inspired by the wonderful work of our faculty and by the new energy that our recently hired colleagues bring to the school. We are pursuing new strengths in our departments, including through our six ongoing faculty searches, while also investing in our interdisciplinary programs that cross or conjoin departments and programs. Two of our humanities programs are actively engaged in major cross-disciplinary initiatives, led by Ramamoorthy Ramesh, the university's new vice president for research. Joseph Campana, the William Shakespeare Professor of English and director of the Center for Environmental Studies, is one of six faculty involved in designing and proposing a new Rice Institute for Energy, Environment and Sustainability, which is actively in process. Kirsten Ostherr, the Gladys Louise Fox Professor and chair of the Department of English and director of the Medical Humanities Program, is leading new conversations with scientists, engineers and social scientists, as well as clinicians and researchers at the Texas Medical Center about a broader medical humanities initiative, with direct engagement and support of the vice president for research.
We eagerly await the next steps in the design process for the Sarofim building for the arts as student demand for visual arts and creative writing continues to grow, and our new art faculty arrive on campus eager to begin the collaborative work that the new building will embody.
PRESIDENTIAL INAUGURATION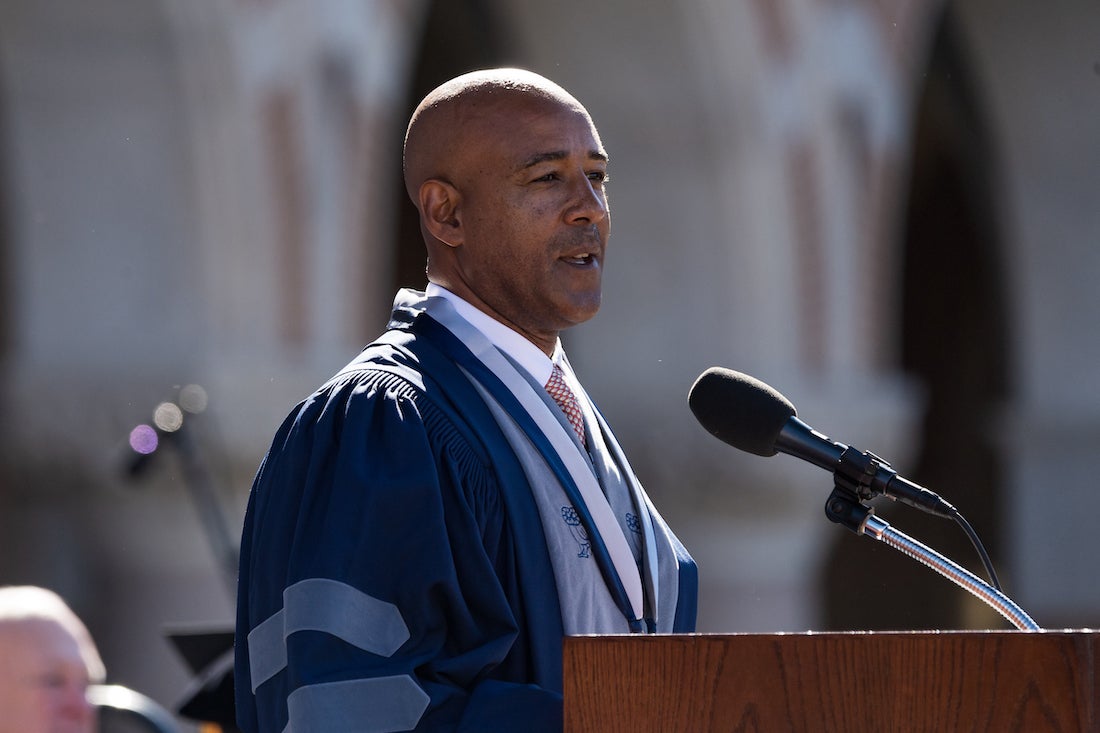 In his inaugural address earlier this semester, President Reginald DesRoches spoke about his bold vision for the future of the university — one that is committed to a broad-based liberal arts undergraduate education. "Rice will recommit to the importance of the arts and humanities as a foundation for higher learning and a means for addressing today's most pressing challenges."
"The arts and humanities," he said, "expose the complex and diverse world around us, making us more aware of our place in society. The arts inspire us to create and challenge our beliefs, and to connect with people from different places and cultures on a deep, emotional level. The humanities and the arts build empathy, which is perhaps the most important skill set needed to solve many of the challenges facing us today."
MACARTHUR FELLOWSHIP
We are enormously proud of Kiese Laymon for winning a 2022 MacArthur Fellowship, the John D. and Catherine T. MacArthur Foundation prize popularly known as the "genius grant." Laymon, the Libbie Shearn Moody Professor of Creative Writing and English, is the first member of the School of Humanities to win the award and the second Rice faculty member to receive it. "This is a huge win for Kiese, for Rice's School of Humanities and for the university as a whole," said President DesRoches. "Any time one of our professors' work is recognized by a prestigious organization such as the MacArthur Foundation, it shines a light on the extremely high-caliber faculty at Rice and the impact of their research, scholarship and creative pursuits." Professor Laymon's arrival at Rice earlier this year is one of the hallmarks of our school's strategic investments to elevate Creative Writing to one of the top programs in the country.
EVENT HIGHLIGHTS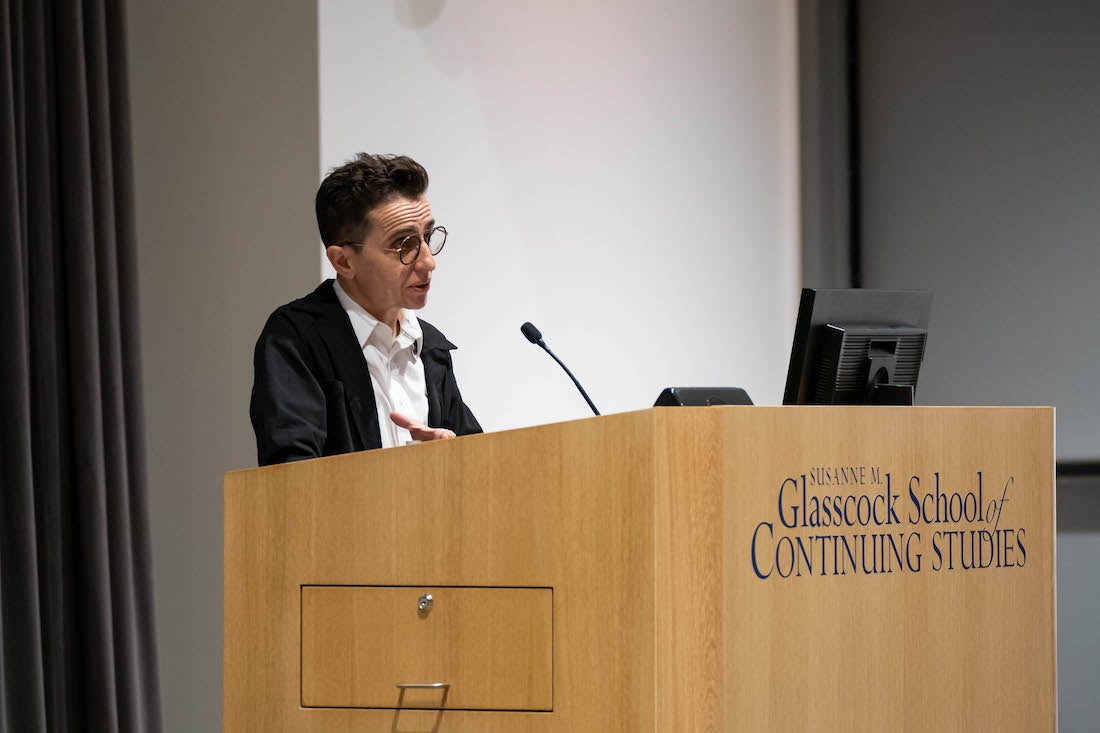 As voters went to the polls in the midterm elections, one of the nation's most prominent Russian American journalists provided a unique perspective on not only the war in Ukraine, but also how Russia's experience with autocracy can offer Americans some insights about their own country. Masha Gessen led two nights of thought-provoking discussions as the latest speaker in our Campbell Lecture Series. A New Yorker staff writer, Gessen has written 11 books, including Surviving Autocracy and The Future Is History: How Totalitarianism Reclaimed Russia, which won the National Book Award in 2017. The visit was made possible with generous support from the Campbell Foundation.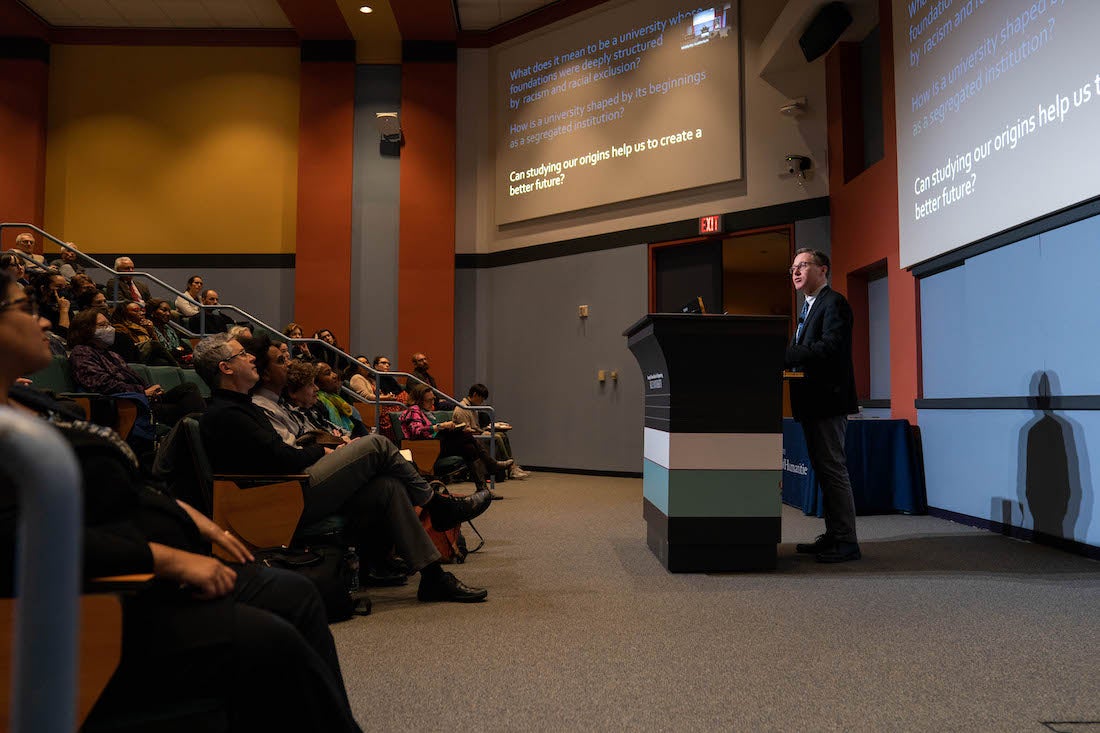 The histories of the city of Houston and Rice are deeply implicated in the history of Jim Crow. Both also have rich histories of Black activism and institution building that sometimes intertwined. In this latest edition of the university's Scientia Lecture Series "Betterment of the World," Fay Yarbrough '97, associate dean of Humanities and professor of History, and W. Caleb McDaniel, the Mary Gibbs Jones Professor of Humanities, chair of History and co-chair of the Rice Task Force on Slavery, Segregation and Racial Injustice, reflected on Houston, Rice and race. Alexander Byrd '90, vice provost for Diversity, Equity and Inclusion, associate professor of History and co-chair of the Rice Task Force on Slavery, Segregation and Racial Injustice, served as an interlocutor with professors Yarbrough and McDaniel.
TOPPING THE NICHE RANKINGS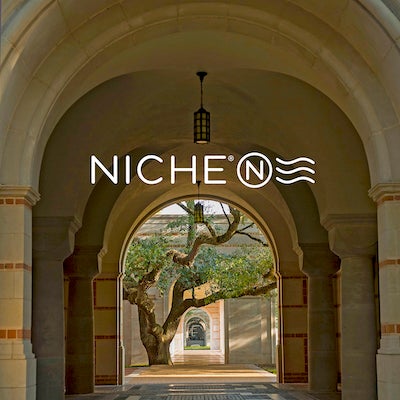 We are thrilled that NICHE — the "Yelp" of college rankings based on input from students, alumni and parents — ranks five of our School of Humanities areas of study among the best in the country and two as number one in Texas.
Art #5
Religion #5
History #9 (ranked #1 in Texas)
English #10 (ranked #1 in Texas)
Philosophy #12
PURSUING THE BIG QUESTIONS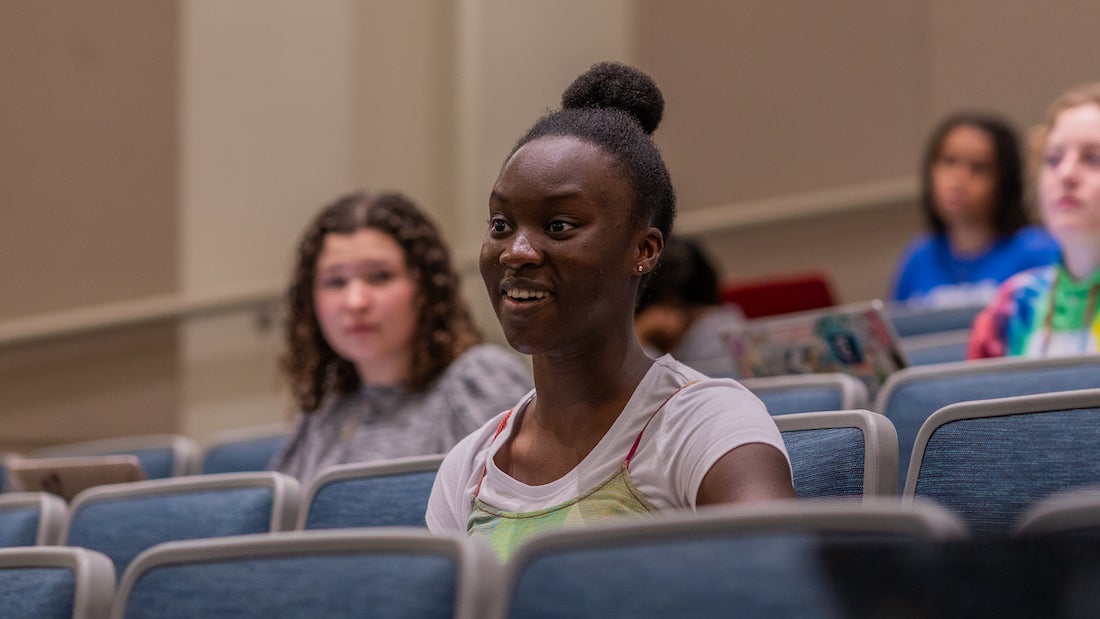 Joselyn Lwigale '26 loves superheroes, especially Superman, the Silver Surfer and Captain Marvel, which is why she jumped at the chance to enroll in "What Is An (Ab)normal Body?", a Big Questions course about the human body in relation to normalcy, and how it affects the way we view and have viewed our bodies and disability. Subjects in this series vary, but each shares a common goal of engaging students in a deep dive into those life-changing questions that comprise the core of a liberal arts education. Learn about Joselyn's Big Questions class experience in this Office of Admission blog post.
SUPPORTING THE STUDENT EXPERIENCE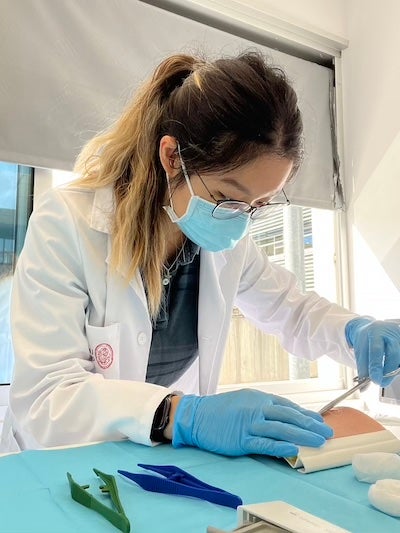 Last summer, Linda Wu '23 had the opportunity to study abroad through our popular Rice in Country program, supported by the Elizabeth Lee Moody International Fund in the Humanities and the Arts and led by faculty in our Center for Languages and Intercultural Communication. Learn about this aspiring physician's medical Spanish studies and her favorite parts of living and learning in Pamplona, Spain, in this Admission blog post. Check out also Linda's earlier post about her experience as one of our Elizabeth Lee Moody Undergraduate Research Fellows in the Humanities and the Arts.
STUDENT ACHIEVEMENTS
Student speech and debate team keeps racking up championships and awards
The past several months have been a whirlwind of success for the George R. Brown Forensics Society, Rice's award-winning student speech and debate team housed in the School of Humanities. After tremendous achievements amid the height of the COVID-19 pandemic, including two national championships in as many years, the team's penchant for top-tier performances has continued this year alongside a much-welcomed return to in-person competition.
PHILANTHROPIC IMPACT
New postdoctoral fellowship to be pivotal in recruiting star African and African American Studies scholars to Rice
Terrence Gee '86, a member of the Humanities Advisory Board and Rice's Board of Trustees, and his wife Terry have created the Dr. Anthony B. Pinn Postdoctoral  Fellowship in the Center for African and African American Studies (CAAAS). The fund honors the center's founding, Anthony Pinn, the Agnes Cullen Arnold Professor of Humanities and professor of Religion, who in 2021, was elected to the American Academy of Arts and Sciences, the nation's foremost society of Scholars. With this gift, we will be able to recruit cutting-edge young scholars t Rice to share research, to collaborate with CAAAS faculty across the Humanities and Social Sciences, and to reach our interdisciplinary African and African American Studies undergraduate minor.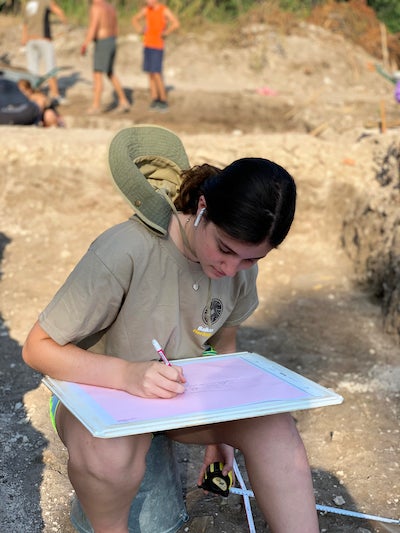 Summer archaeological travel grants for student research created in honor of late Charles Garside
A gift from Bruce Dunlevie '79 to our Ancient Mediterranean Civilizations (AMC) Program will allow AMC majors to participate in summer archaeological excavations at sites all over the world. AMC students have previously excavated at sites in Italy, Greece, Bulgaria and Mongolia, to name a few. The gift from Mr. Dunlevie, a Humanities Advisory Board member who studied English and History at Rice, is named in memory of Charles Garside, one of the most influential professors of late Medieval and early Renaissance history. "Receiving hands-on field training under expert guidance abroad is a fundamental complement to the academic training our students receive in the classroom at Rice, and is often singled out by our graduates as one of the most formative experiences of their undergraduate careers," said Sophie Crawford-Brown, assistant professor of Art History and program director. "Thanks to Bruce Dunlevie's unstinting support, AMC students will continue to be part of exciting new discoveries across the globe."
Comic Art Teaching and Study Workshop receives rare comic art gift
A rare art collection featuring some of the most famous cartoon characters in American history has been donated to the Comic Art Teaching and Study Workshop (CATS), a repository for original comic art and books in Visual and Dramatic Arts directed by Christopher Sperandio, associate professor of painting and drawing. The 14 pieces from Lewis and Vera Kaminester include a three-panel Mickey Mouse comic strip by Walt Disney, a Bil Keane "Family Circus" illustration and multiple works from Chic Young's famed "Blondie" series. These latest donations add to the ever-growing CATS archives, which include one of the largest private collections of Mexican comic art in the United States as well as dozens of Soviet-era East German comic books, comics from the Cultural Revolution in China and Edo-period Japanese woodblock prints.
CONNECTIONS: HUMANIZING THE HUMANITIES
Kripal, Morton connect in latest Humanities podcast episode

Jeffrey J. Kripal, the J. Newton Rayzor Professor of Religion, associate dean of Humanities and author of the just-published book, The Superhumanities: Historical Precedents, Moral Objections, New Realities, spoke with Timothy Morton, the Rita Shea Guffey Professor of English, in this latest episode of the school's podcast series, Connections: Humanizing the Humanities.
One of the world's leading environmental philosophers and a popular lecturer with a rising international profile, Morton recently spoke at UNESCO and has been featured in Grist, Time and New York magazine, in a piece titled "How to Live in a Catastrophe: In search of a way to think clearly about the planetary crisis."
NEWS UPDATES
This fall, the Faculty Council of the Humanities Research Center continued to work on restructuring governance and widening the reach of the center as a research hub that encompasses both disciplines and interdisciplines, and that welcomes faculty and graduate students from all of our departments and programs. The HRC hosted a reception for our current 10 postdoctoral fellows (four of whom are hosted directly by the center) and we are thrilled to include the postdocs in the School of Humanities Lightning Talks, which continue on Tuesday, Jan. 24. The council has also reviewed faculty and graduate student proposals for conference, workshop and speaker series funding and is currently reviewing a very competitive group of applications for Faculty Teaching Release fellowships.
We welcomed the recent news from the university that our PhD stipends will rise to a more competitive level next fall. Our Humanities Graduate Student Association has advocated for some of the very positive changes announced. The Humanities Dean's Office appreciates our partnership with the HGSA.
NEW APPOINTMENTS
In January 2023, two new Visual and Dramatic Arts faculty hires join us:
Leslie Hewitt, an artist and educator — and 2020 Guggenheim Fellow — whose approach to photography and sculpture reimagines the art-historical still-life genre from a post-minimal perspective, joins us as an associate professor (photography).
Kenneth Tam, who works in video, sculpture, installation and photography and makes work about the performance of masculinity, physical intimacy and private ritual, joins us as an assistant professor (sculpture and performance).
New Modern and Classical Literatures and Cultures staff appointment:
This fall, we welcomed a new staff member: Ivy Gonzalez joined us as a program administrator in our Department of Modern and Classical Literatures and Cultures.
FAREWELL
We remain grateful to Farès el-Dahdah, professor of Art History, for his leadership of the Humanities Research Center (HRC) from 2012-2021 and wish him well as he assumes the position of the Mamdouha El-Sayed Bobst Dean of the Faculty of Arts and Sciences (FAS) at the American University of Beirut, effective Jan. 1, 2023. We are working with Farès and his colleagues in the Department of Art History to assure the continuation of his signature and field-defining research endeavors in spatial and digital humanities, including Rice's Diluvial Houston Initiative, a project of the HRC funded by the Andrew W. Mellon Foundation.
IN REMEMBRANCE
Janice Doty '60, an active and engaged member of the Humanities Advisory Board and former member of the university's Board of Trustees and Association of Rice Alumni's executive board, died in September 2022. A tireless advocate for Rice's mission of teaching, research and community outreach, Janice studied economics at Rice before beginning a long tenure as a top executive at IBM, working in areas including marketing, sales, employee relations, executive recruiting and real estate development. Her generosity is evident in her ample philanthropic support of Rice, from the schools of Humanities and Natural Sciences to Wiess College, undergraduate scholarships and the Rice Annual Fund. She received the ARA's Meritorious Service Award in 2011 and was honored with a gold medal from the Association of Rice Alumni as a Laureate Honoree in 2022. She was described as an "ambassador extraordinaire and champion for Rice." Janice is survived by her husband, Stephen Doty '60.
Nanxiu Qian, professor of Chinese literature in the School of Humanities, lost her valiant battle with cancer in November 2022. A quiet but powerful intellectual voice in the school, Nanxiu was a treasured colleague and friend to faculty and staff alike. She was actively engaged in the founding of our new Department of Transnational Asian Studies. Nanxiu was also known for her work with the Chao Center for Asian Studies, the Center for the Study of Women, Gender and Sexuality, and the Medieval and Early Modern Studies Program within the school. She was renowned for her profound interest in and attention to mentoring undergraduate students, and colleagues and friends recalled the talent with which she sang and chanted traditional Chinese poems, as well as her skill at poetry, short-story writing and calligraphy. She cherished her students above all: the drive to teach and advise them sustained her throughout her illness. A memorial service will be held in the spring at Rice to honor Nanxiu's life and work.
UPCOMING EVENTS
School of Humanities Lightning Talks

Open to Rice faculty, staff, postdoctoral fellows and graduate students

Tuesday, Jan. 24, 12 p.m.
Talks by:
Samuel Reis-Dennis, assistant professor of Philosophy and Medical Humanities
Carly Boxer, the Robert J. Carney Postdoctoral Fellow in Medieval Art and Architecture, Department of Art History
Travis Alexander, Lecturer and former Postdoctoral Fellow (2020-2022), Program in Medical Humanities
Luis A. Campos, Baker College Chair in the History of Science, Technology and Innovation (History)
Humanities NOW conversations

Open to Rice students and all other members of the Rice community

Friday, Feb. 3, 12 p.m.

"What Is An (Ab)normal Body?"
Elizabeth Petrick, associate professor of History; co-director of the new Program in Science and Technology Studies, shared with Social Sciences
Wednesday, March 8, 12 p.m.
Samuel Reis-Dennis, assistant professor of Philosophy and Medical Humanities

Learn more and register: humanities.rice.edu/humanities-now 
Fourth Annual Kazimi Lecture in Shi'i Studies

"Memories of Ali in Sunni and Shi'i Islam"

Open to all members of the Rice community and the public

Thursday, Feb. 23, 6 p.m.
Nebil Husayn, associate professor of Religious Studies, University of Miami

This lecture is made possible through a generous gift from the children of Syed Safdar and Samina Kazimi.

Learn more and register: humanities.rice.edu/kazimi-lecture 
Save the Dates:
Archives of the Impossible conference "Transnationalism, Transdisciplinarity, Transcendence"

Open to all members of the Rice community and the public

Thursday, May 11-Saturday, May 13
---
With gratitude and best wishes for good health and a happy holiday season,
Kathleen Canning
Dean, School of Humanities
Andrew W. Mellon Professor of History
Rice University