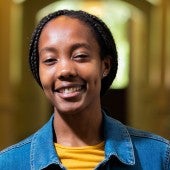 Selase Buatsi
Philosophy and Managerial Studies Double Major | Business Minor | Martel College, '20 | HEDGE Summer Intern

---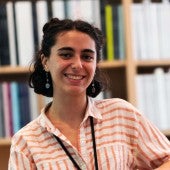 Grace Earick
Art History Major | Museums and Cultural Heritage Minor | Lovett College, '20 | HEDGE Summer Intern

---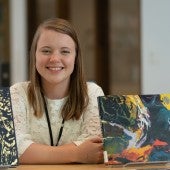 Ellie Mix
English and Art History Double Major | Martel College, '20 | Summer 2019 Curatorial Intern, Museum of Fine Arts, Houston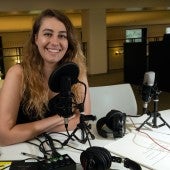 Lily Wulfemeyer
English Major | Museums and Cultural Heritage Minor | Brown College, '20 | HEDGE Summer Intern

---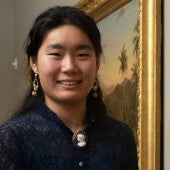 Eponine Zhou
Philosophy Major | Art History Minor | Baker College, '21 | HEDGE Summer Intern, Museum of Fine Arts, Houston

The School of Humanities offers a variety of internship and practicum opportunities to students from the moment they enter the Sallyport, so that when they cross its threshold at graduation, they already have a wealth of professional experiences in their repertoire.
These work and research experiences include the year-long Health, Humanism and Society Scholars practicum, the semester-long Law, Justice and Society Scholars practica, Arts and Culture internships offered in the summer and during the academic year, and many opportunities at the department, center and program level.
They also include medical and professional internships, as well as internship funding opportunities available through HEDGE (Humanities Encouraging Diversity in post-Graduation Employment). HEDGE, administered through the School of Humanities Dean's Office, supports undergraduates while translating their humanities education to a professional environment. HEDGE serves as an umbrella of resources for all Rice students, regardless of school or major, who are seeking a work or research internship opportunity.
Through its webpage and listserv, the program advertises position openings to students and links them to organizations and companies in Houston and elsewhere that best match their interests. HEDGE also organizes a number of career panels, workshops, networking dinners and other opportunities involving Rice alumni to help introduce students to a variety of industries. The program additionally provides summer funding, which is often vital to sustaining humanities students' living expenses while they intern.
"Students take their classes, they get inspired and they have an idea of what type of work experience they want to have," says Nyeva Agwunobi, Executive Director of Programs and Strategic Initiatives for the School of Humanities. "At that point, they know what they want to do but matching up with a resource on campus is often their most common question."
The School of Humanities and HEDGE collaborate with nearly every entity on campus to connect students with the right resources and programming which often opens the door to interdisciplinary opportunities. From paraprofessional resources like the Center for Career Development to other academic sectors such as the School of Social Sciences, HEDGE is a key facilitator for connecting humanities students with resources that will be most useful for ascertaining professional opportunities.
"What are you going to do with that degree?" is a common question that School of Humanities students face. By seeking out professional opportunities and connections for students, Agwunobi and her colleagues work to assure students that the career possibilities in the humanities are endless. "If you study an area that you're passionate about, we can find practical work and research experiences relating to your interests," she says.
Like a job search, an internship search can become a job in itself. "It can seem a bit daunting, but rest assured," Agwunobi says. "Many students have successfully found internships and derived great benefit from them."