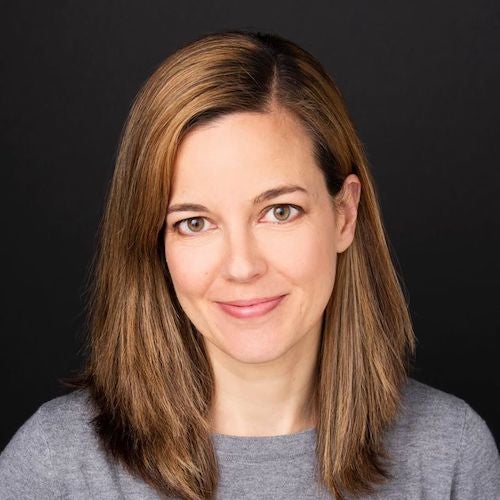 Prospero, the magician who rules an unnamed island in Shakespeare's "The Tempest," served as author Alix Ohlin's springboard for the first in her three-part lecture series, "The Tempest of Nature and Art," Oct. 23 in Sewall Hall.
"Like many an artist, Prospero casts spells over those who come into contact with him," Ohlin said. "He has the capacity to make people experience emotion -- love, grief, anger -- and to make them see themselves, and the world in which they live, differently. These qualities are ways in which art works upon us."
Ohlin examined the intersection of art and nature and how it affects the way humans use art to understand the world. She showcased works by contemporary artists to explore her theme further.
The landscape plays a prominent role in "The Tempest," and Prospero uses his magical powers to control the island and the inhabitants' perceptions of it.
"An artist's role today is different than it has ever been before," Ohlin said. "I think we are living in a post-natural world, and that the artist's magic has had to evolve in order to continue to cast spells on us."
For example, nature is both canvas and frame in Andy Goldsworthy's work, said Ohlin. "To fully experience his art, one must journey to the landscape in which he works, for nature itself serves as both studio and gallery." Goldsworthy's creations highlight nature's beauty and fragility.
His cairns, based on markers once used to guide travelers along trails, resemble enormous eggs set in uninhabited landscapes. Some are built to last; others are built to decay.
"They serve to remind us of what can be lost," said Ohlin. "You see this beautiful thing out in nature, and you know that it will disappear, just as nature itself is disappearing all around us."
In contrast, artist James Turrell uses light -- natural and artificial -- to cast spells, said Ohlin. For nearly 40 years, Turrell has been transforming Roden Crater, an extinct volcano in the northern Arizona desert, into a massive artwork to serve, as Ohlin described it, as a naked-eye observatory.
"Turrell says we are used to thinking about light as something we use rather than something that is," Ohlin said. "He wants to let light speak for itself. In order to do so, he is not just making a landscape, he's making new land."
The Center for Land Use Interpretation (CLUI), a collective headquartered in Los Angeles, researches and presents land and landscape issues in the United States.
"The CLUI is dedicated not to the beauty of the natural world, as Goldsworthy is, or to the perception of the world, as Turrell is, but to information, broadly defined," Ohlin said. "They absolutely do not subscribe to a binary division between culture and nature. They are simply mapping our world."
A recent CLUI exhibit, "Ultima Thule," which documented in video a radar station and satellite control station in the world's northernmost community, was part of a show in Greenland. "Ultima thule," Latin for Greenland, often connotes in literature that which is distant and remote, much like Prospero's island.
"Underlying the CLUI exhibit was the idea that technology -- today's magic -- has reached so far that there are no more places off the map," Ohlin stated. "Maybe what CLUI is saying is that there are no more separate islands, and that part of the impulse of contemporary art must be to document that lack of separation."