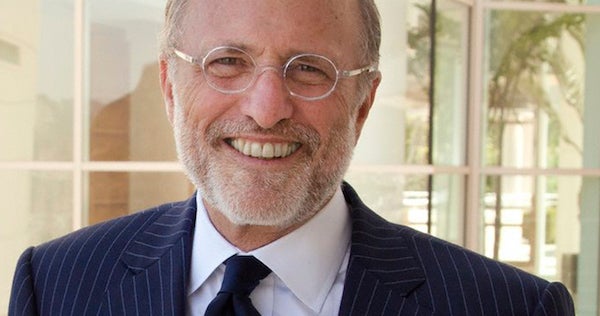 Encyclopedic museums -- those that collect and exhibit art from across the millennia and around the globe -- may be an instrument for peace, the best hope for people from diverse cultures to understand and relate to others.
James Cuno, president of the Art Institute of Chicago, believes that the encyclopedic museum has the matchless ability to draw parallels among art of different civilizations, partly because its vast collection encompasses similar art forms from different eras and comparable art objects fashioned by unrelated cultures.
He presented the fifth annual Campbell Lecture Series, "The Promise of Museums," at Rice Oct. 27-29. The lectures were based on his 2008 book, "Who Owns Antiquity? Museums and the Battle Over Our Cultural Heritage," which has stirred spirited debate among museum directors and trustees, academics, anthropologists, art collectors and some governments.
Cuno's writings explore "important issues of cultural policy," said Allen Matusow in introducing the series. Matusow is interim dean of the School of Humanities, which sponsored the lectures. The speaker offers "a reminder that beauty was present long ago and art is in our care to safeguard for people in the future," he said.
The dispute that Cuno examines is whether museums should acquire and display ancient art to entertain and educate visitors or whether modern governments have the right to reclaim historic art works from foreign museums.
Cuno believes such governments impose a national culture, bar the export of art that reflects that culture and deny the cultural heritage of minorities. He noted that ethnic boundaries cut across political boundaries. "Nations calling for return of artifacts did not exist when the objects were removed; the government of that long-ago time no longer exists," he said.
Cuno described the history of the encyclopedic museum as a place where "things" are gathered, examined and organized so that one may compare and contrast them to expand understanding of the world's cultures.
A 1753 bequest from Hans Sloane, a doctor and collector who had amassed hundreds of "things" in countless categories, left his treasures for inspection by the studious and also by the curious. "His assortment of 'stuff' was erratic and widespread, but thoroughly cataloged," Cuno said. His collection became the first public encyclopedic museum, the British Museum.
Cuno's second lecture in the three-night series explored museums' increasing sophistication. Museums no longer merely show objects, but present them in orderly ways and draw attention to each item and how it relates to others. "Each object tells a story," Cuno said. "It is a curatorial decision as to which story to tell." For example, should a Monet painting be presented with other Impressionists? With objects sharing a theme, such as dreams or gardens? Or with other 19th-century French paintings? All are possible choices.
His third lecture looked at "The Promise of Cosmopolitanism," a framework for understanding the implication of meaningful relationships among things. "That we are citizens of the world is museums' greatest promise," he said. "The display of things from different times and places elicits in us increased caring for the things themselves.
"Limited space constrains us from telling the stories as thoroughly as we might," Cuno said. "Travel is an analogy for the way we experience the museum; we want visitors to explore the museum, wander, find their own experiences of discovery." The Art Institute's approach is to design exhibits in ways that "encourage visitors to return again and again to see something new."
"The public is quite intelligent," Cuno noted. "They can come up with their own interpretation." The most profound thing is to make the museum accessible -- physically, socially and intellectually accessible, he said. "Get people in the door. Show respect for their curiosity. Encourage people to feel it's their museum as much as anyone's."
Lively Q-and-A sessions followed each lecture, and Cuno noted that the questions had provoked new thoughts for an upcoming book. A noted scholar, he was previously professor and director of the Courtauld Institute of Art at the University of London and professor and director of the Harvard University Art Museums.
The Campbell Lectures Series in literary studies was made possible by a $1 million gift from alumnus T.C. Campbell '34, whose family members attended this year's program. The late Campbell's dream was "to draw attention to the study of literature, and for Rice to be known as a place on the literary map."
James Cuno has been President and Eloise W. Martin Director of the Art Institute of Chicago since September 2004. Previously he served as Professor and Director of the Courtauld Institute of Art, University of London from 2002-2004, and as Professor and Elizabeth and John Moors Cabot Director of the Harvard University Art Museums from 1991-2002.
A Fellow of the American Academy of Arts and Sciences, James Cuno has written and lectured widely on topics ranging from French caricature of the 18th and 19th centuries to contemporary American art, as well as on the role of art museums in contemporary American cultural policy. He is the author of Who Owns Antiquity?: Museums and the Battle Over Our Ancient Heritage (Princeton University Press, May 2008). A top flight scholar, with a remarkable reputation here and abroad, he writes extensively on the role of museums – the current state and future of American art museums.