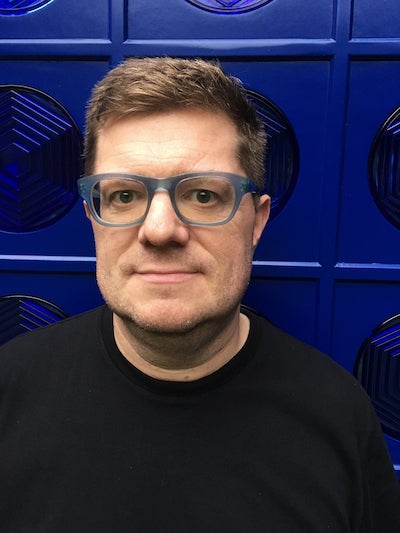 Josiah McElheny, a visual artist, writer, curator, filmmaker and performance artist, best known for his use of glass with other materials, will give the 2018 Campbell Lecture Series (March 20-22, 2018). McElheny's lectures will focus on six essential figures from the histories of art, architecture and music across the twentieth and twenty-first centuries. McElheny will propose that there are a set of paths towards undiscovered alternate futures to be found in the work of specific artists, architects, writers, musicians and composers. Each night will include visual or auditory components and the final evening, March 22nd, will include a special a guest, the inimitable free-jazz musician Joe McPhee who will both perform and conduct the audience in a participatory performance following the lecture.
March 20th, the series opens with an introduction to McElheny's proposal for an "Imaginary Modernism", a modernism that has yet to happen, followed by "Literary Architecture: the mythic, futuristic, comedic poetic architectures of Paul Scheerbart and Bruno Taut." This lecture describes the collaborations between between poet-theorist Paul Scheerbart (German, 1863-1915) and activist-architect Bruno Taut (German, 1880-1938) and how their ideas speak to the present.
March 21st, the second evening will continue with "Invisible Painting: the work of Hilma af Klint and Blinky Palermo" depicting the world beyond the visible and the space we inhabit. McElheny will discuss the work and thought of these two disparate and reticent painters, Hilma af Klint (Swedish, 1862-1944) and Blinky Palermo (German, 1943-1977), and their attempts to make visible a world beyond and the nature of the imperfect spaces we inhabit.
March 22nd, concludes the series with "Cosmic Listening: the cosmo-political thinking of Sun Ra and Pauline Oliveros" and concludes with a special guest performance by visionary musician and poet Joe McPhee. McElheny pays homage the political, exuberant, unbounded sound-making of Sun Ra (American, 1914-1993) and the feminist, radical, and communitarian propositions by composer, electronic musician and audience conductor Pauline Oliveros (American, 1932-2016).
Joe McPhee, a Miami, Florida native, is a multi-instrumentalist, composer, improviser, conceptualist, and theoretician. He bagan playing the trumpet at age eight, taught by his father, himself a trumpet player.
He continued on that instrument through his formative school years and later in the U.S. Army Band stationed in Germany, at which time he was introduced to performing traditional jazz. Clifford Thornton's Freedom and Utility, released in 1969 on the Third World label, is the first recording on which he appears as a side man. In 1968, inspired by the music of Albert Ayler, he took up the saxophone and began an active involvement in both acoustic and electronic music.