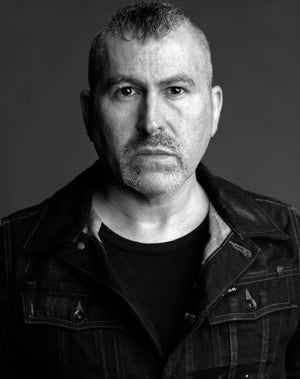 Michael Petry, the Texas-born multimedia artist, author and director of the Museum of Contemporary Art, London, will headline Rice University's Campbell Lecture Series April 7-9.
This year's program, titled "The Trouble with Michael: Artist and Rice Alumni Michael Petry Discusses His 30 Years of Art Production," will feature three lectures: "Growing Up in Public" (April 7, 2015), "Reading a Life" (April 8, 2015) and "The Art of Ethics" (April 9, 2015).
The lectures are free and open to the public and will begin at 6 each night in the Rice Media Center auditorium, 6100 Main St. Each lecture will highlight a particular aspect of Petry's art and writing and will be approximately 45 minutes, followed by a Q-and-A with the audience.
A coinciding exhibition of Petry's work, "At the Core of the Algorithm," will open April 11 at Hiram Butler Gallery, 4520 Blossom St., and be on view through May 30.
Petry, who was born in El Paso, Texas, and earned his bachelor's degree at Rice in 1981, has lived in London since 1981. He is an internationally exhibited artist and guest curator for the London-based culture agency Futurecity. He co-founded the Museum of Installation, was a guest curator at the Kunstakademiet in Oslo, Norway, a research fellow at the University of Wolverhampton and a curator of the Royal Academy Schools Gallery.
Petry is a fellow of the Royal British Society of Sculptors and a brother of the Art Workers Guild. Petry co-authored "Installation Art" (1994) and "Installation in the New Millennium" (2003) and authored "Abstract Eroticism" (1996) and "A Thing of Beauty Is …" (1997). "The Trouble with Michael," a monograph of his practice, was published in 2001.
Petry's book "Hidden Histories: 20th-Century Male Same-Sex Lovers in the Visual Arts" (2004), was the first comprehensive survey of its kind and accompanied the exhibition "Hidden Histories" he curated for The New Art Gallery Walsall. His two-volume book "Golden Rain" (2008) accompanied his installation for the "On the Edge" exhibition for Stavanger 2008, European Capital of Culture. Petry's book "The Art of Not Making: The New Artist Artisan Relationship" was published in 2011.
His recent-one man show, "The Touch of the Oracle," at the Palm Springs Art Museum (2012) was accompanied by a 10-year career-review book distributed by Thames & Hudson. His new book, "Nature Morte: Contemporary Artists Reinvigorate the Still-Life Tradition," was published in 2013.
Petry has a master's degree from London Guildhall University and a doctorate from London's Middlesex University.